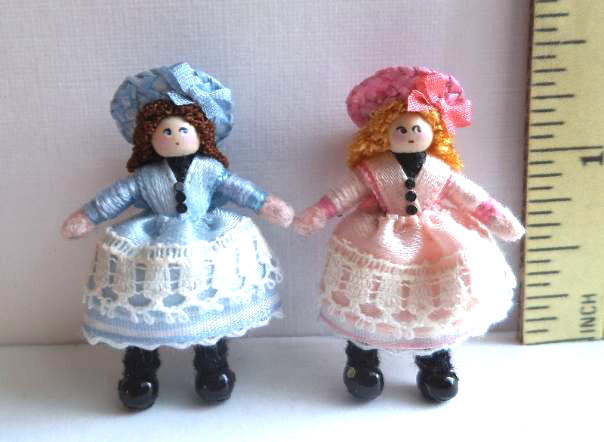 Sally Readers Miniature Pipe Cleaner Creations
July 28, 2014
Sally Reader Miniatures began nearly 30 years ago, with a not so miniature journey. Like most crafters, Sally is passionate and enthusiastic about her extremely detailed miniature creations.
In 1985 Sally Reader wanted to try and sell some dolls she had made out of pegs and fabric, as well as some teddy bears made out of pipe cleaners, so decided to book a small stand at a local doll fair. The miniature teddies were very popular and as a result a toyshop in Hastings that had seen them, asked Sally to produce some more. Over the year following the doll fair, Sally developed a small range of tiny dolls and teddy's which were perfect to use as toys in a doll house nursery. The success of these small creations means that Sally was kept busy creating the bears and dolls by mail order from the toyshop.
Unfortunately Sally didn't know about Hewitt and Booth until a number of years after she began her business and mainly relied on smoking pipe cleaners sold at her local newsagents and tobacconists, much to Sally's annoyance! Whilst Sally purchased her pipe cleaners from these local sores, she had to check the packs of pipe cleaners before purchasing, to ensure that there were an adequate number of doll and teddy bear colours, as well as ensuring the quality was satisfactory.
In 1991, Sally's creations were a popular attraction at the doll fairs she was exhibiting at, so started to trade at these events regularly, which meant that the quest for a consistent and quality supply of pipe cleaners became a priority. Finally in 1992, Sally discovered Hewitt and Booth in a trade directory and found that we could supply her in bulk, with the quality and colours she required and has been crafting happily ever after.
You can find out more about Sally's creations at: www.sallyreaderminiatures.co.uk