Wick Applications
Uses & Applications
Pipecleaners have long been known to be perfect for reaching inside small holes / tubes / ducts etc.  Perhaps less well known is their usage as the perfect "wick" to slowly draw and transport liquids and other volatile substances.  Here at Hewitt and Booth, we have been manufacturing pipe cleaners since 1922 and have developed wick applications for various customers.
Case Study: Adams LubeTech Ltd, Coventry
Adams LubeTech have been a customer since 2010.  They manufacture single point 'Lubricators and Oilers' and 'Centralized Lubrication Equipment' for use on all types of industrial machinery, exporting to over 50 countries.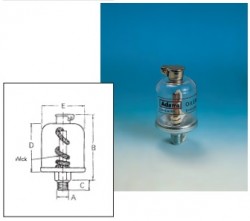 They use our pipe cleaners as wicks in their "Wick Feed Oil Cups", and in their range of "Single Outlet Wick Feed Oilers", to draw and transport oil through the devices.  For this purpose, we have developed special unbleached cotton, 3mm diameter, 50m long coils, so they can cut it to their required lengths.