Medical Industry
Uses & Applications
We are Hewitt & Booth, market leaders in the bespoke manufacturing of cleaning stems since 1922. Our expertise and techniques make us a popular choice for medical companies needing disposable precision cleaning tools and our cleaning stems are widely used across medical, surgical, pharmaceutical and dental applications.
We are the one and only manufacturer of pipe cleaners in the UK, producing over 2 million every month. With nearly a century in the field of manufacturing pipe cleaners, our processes have been finely tuned to ensure that we can meet our customers' requirements for quality, speed, and reliability.
Case Study: Key Surgical UK, High Wycombe
One of our long-standing customers is Key Surgical UK (formerly Clinipak), a leading innovator, manufacturer and global supplier of central and theatre sterile products including fine bore cleaning supplies.
We have worked closely with Key Surgical UK over many years and have developed an extensive range of "Flexistems" for cleaning all small cannulae & small bore items.  Flexistems come in a variety of diameters, lengths, shapes and materials, to give soft or hard cleaning properties to meet the medical sectors specialist applications.  For example we use cotton and fleece for "soft cleaning" and nylon bristle cleaning stems for the removal of more stubborn residue.  Stems have been developed in a variety of lengths for Key Surgical UK, from 2cm to 10m coils dependent on the usage requirements.  Coils enable the user to cut off a length that is fit for the purpose required and can also be folded over to double the cleaning diameter.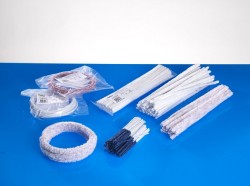 The centre of our medical chenille stems are made up from two wire lengths intertwined to create stability and strength, while allowing flexibility for small lumens, cannulae and fine bore cleaning. We also offer rot and corrosion proof coatings for short and long-term exposure to, or submersion in water.
We continue today to develop the range of "Flexistems" with Key Surgical UK, often live-trialling products with them and their customers, in many cases overseas.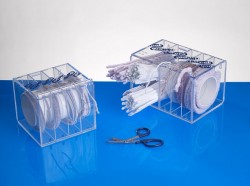 Andy Wigglesworth
(Q.A. Manager, Key Surgical UK)
Just to let you know that Key Surgical considers Hewitt and Booth to be one of our most reliable suppliers from a quality point of view
Case Study - A C Cossor & Son (Surgical) Ltd, Essex
A C Cossor & Son were established in 1859 and are a manufacturer of medical apparatus, specialising in the production of sphygmomanometers (blood pressure monitors). The devices have a clear plastic column which allows the flow of mercury up and down during the course of taking a patients blood pressure. After long periods of use, an oxidised residue can build up inside the clear column, making it difficult to clearly see the mercury, therefore risking an inaccurate interpretation of the blood pressure reading.
To combat the risk of inaccurate readings, A C Cossor & Son supply our pipe cleaners with their blood pressure monitors, ensuring that the user can clean and maintain the clear plastic column easily. For this job we have developed a 35cm fleece flexistem with a 6mm diameter, allowing the total length of the column to be cleaned and moisture absorbed without abrasion of the plastic inside the column.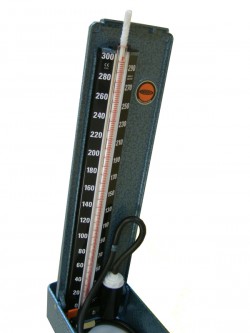 Marc Parish
(Works Manager, A C Cossor & Son (Surgical) Ltd)
We have been using Hewitt and Booth products for over 15 years. During this time they have constantly supplied very good quality products and been able to respond quickly to any unexpected supply problems. They are a very reliable supplier.