Design
Uses & Applications
We are Hewitt & Booth, manufacturers and innovators of pipe cleaners since 1922. Our technical knowledge in the production of flexistems allows us to push the boundaries of the modest pipe cleaner. We have created dynamic technical flexistems and can apply this for our customers, drawing on our innovative manufacturing and creative outlook.
Harvey Nichols chooses Flexistems from Hewitt & Booth for prestigious Christmas window display.
Harvey Nichols, the UK's premier fashion retailer, has sought the pipe cleaner know-how of Huddersfield based, Hewitt & Booth to help create their famous Christmas Window Display. Multi-coloured flexible chenille stems will be at the centre of 3D forest scene displays in their seven UK stores from Manchester to Dublin over the festive period. This comes after the companies first collaborated back in 2009, when Harvey Nichols designed an "underwater" themed window.
Following a brief from Harvey Nichols, and two rounds of sampling, Hewitt and Booth produced specialist 15 meter coils of wide diameter chenille pipe cleaners in 24 shades and 5 different colour themes.  There are a variety of shapes, straight, bump, and tapered.  Yarn has been dyed and wound specially for the job, stretching the boundaries of ordinary pipe-cleaner manufacture.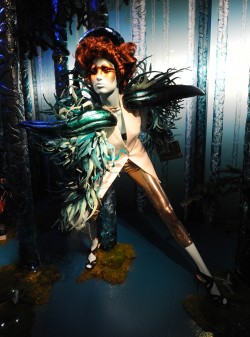 The flexistems have been sculpted together by the Design Team to create headdresses and other props on horned and winged "enchanted creatures" set amongst a magical forest scene.
The project came about when the Harvey Nichols Display Team contacted Customer Sales Manager Karen Preston via the Hewitt & Booth website "It's wonderful to have this opportunity to work with such a prestigious company" said Karen, she went on to add "It's a brilliant project to work on as it allows us to be really creative as well as using our many years of technical manufacturing expertise and we can't wait to go see the end result in our local Leeds Harvey Nichols store."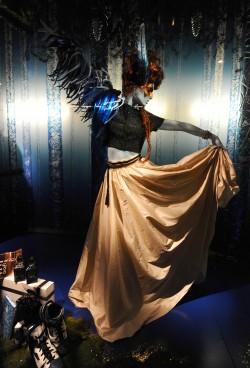 Contemporary Crafts (El Torrent, Spain)
The word "craft" can sometimes be deceiving, in that many people associate the word with hobbies and leisure pastimes.  However, one company based in the small countryside town of Mieres, in the Pre-Pyrenees between Barcelona and France has developed a thriving business from crafted products and are using our pipe cleaners to create unique lighting pieces, primarily designed for the restaurant and hospitality trade.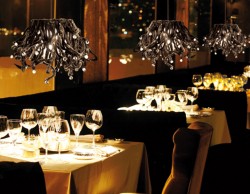 www.eltorrent.com
We are constantly amazed by the versatility of our pipe cleaners, when they are combined with a creative mind to mould them into something truly amazing. El Torrent use our red, black and coral chenille "bump" pipecleaners, which we supply in 15 metre coils rather than short length stems so they can cut them to the lengths they need.  They then combine them together with chrome, black graphite and Swarovski crystal, to make unique lighting art, sold in over 47 countries. The flexi-stems are the perfect choice of material, as they can be moulded into any shape and cut to any size, whilst still having long-lasting stability qualities.
Montse Barbena
(El Torrent)
Our designers were inspired to use pipe cleaners as a material due to their unique appearance and flexible qualities. While trialling them in designing our lamp, we used Hewitt & Booth and continue to do so because of their fast and quality service