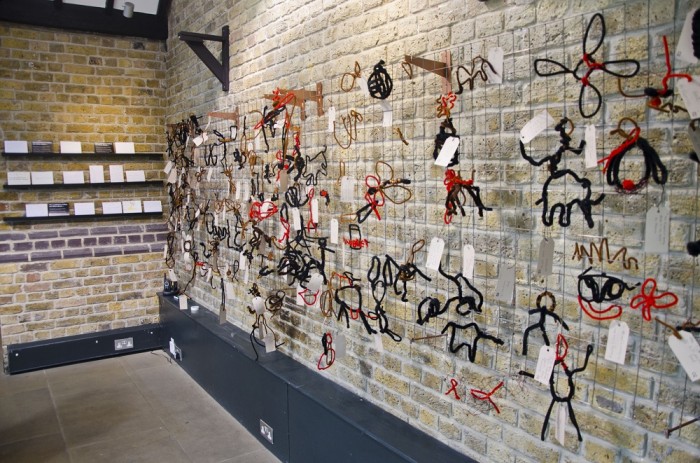 Royal College of Art use Hewitt & Booth Pipe Cleaners at Pump House Gallery.
April 7, 2015
Our Pipe Cleaners are used for a large range of purposes, but perhaps not in such a thought provoking way as they have lately in a Royal College of Art exhibition. The Pipe Cleaners used in this case are 6mm Black Chenille usually used for modelling figures such as teddy bears, spiders etc. but here the designers have used them in ways not seen before. In one case Pipe Cleaners have been used to model a smoking pipe!
The exhibition 'Unknown Territories' unveiled at the Pump House Gallery in Battersea Park, London was led by artist Caroline Claisse as an experimental and collaborative project that questioned why prehistory continues to be an inspiring and fascinating subject. This experiment found form in the gallery's Project Space where visitors were asked to respond to various prompts in the form of writing and 'cave drawings' — illustrations made from wire.
The Pump House Gallery is a public contemporary exhibition space housed in a distinctive four story grade I listed Victorian tower in the centre of Battersea Park. Participation is at the heart of its programme, working in partnership to bring engaging contemporary art to Wandsworth Borough and beyond. The diverse range of exhibitions are supported by workshops, temporary projects and one-off events that explore the different ways art can be made, experienced and interpreted.
Below is a link to the eBay store where our Pipe Cleaners in a full range of colours and dimensions (including the ones used in this example) are available as well as a link to the Pump House Gallery website where more information about this exhibitions and other past and future can be found too.
http://www.ebay.co.uk/itm/100x-30cm-High-Quality-Chenille-Pipe-Cleaners-Manufactured-in-the-UK-/141615992703?ssPageName=STRK:MESE:IT
http://pumphousegallery.org.uk/