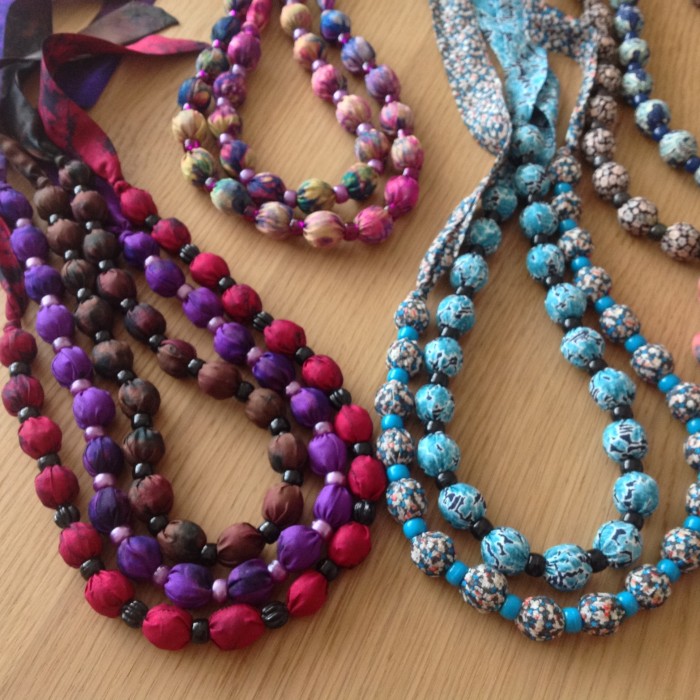 Interest in versatile Paper Balls has soared in recent months – How do you use yours?
April 16, 2015
Just recently we have had an increased number of sales and enquiries for our Paper Balls manufactured here in Huddersfield for the last 20 years. The balls are made by feeding high grade paper onto a needle spinning within a die, the spinning ball is then covered in a food grade paste, the ball is then deposited down a chute onto a drying tray. From there it is transferred to a drying cabinet. We manufacture a range of sizes from 15mm to 80mm and also have the ability to dye the balls to different colours other than the standard white.
At Hewitt & Booth we are always interested in how our various products are used by our customers so when we noticed the interest in the Paper Balls we investigated further. We were excited to find that our customer Jessica was using them to make fabulous fabric necklaces! This is part of activities run by Jessica on cruise ships, meaning our paper balls have been used to make jewellery in waters all around the world including; India, South Africa, Scandinavia and the Mediterranean! Jessica makes the necklaces using 15mm balls and wrapping them in fabric, this method has also been adopted by Jessie's sister Christine who runs a class for the University of the Third Age. Our Paper Balls next adventure will be to Norway and the White Sea!
"As a craft tutor, working with groups of people, I need to know that the materials I use are of the highest quality and suitability for the task in hand. I was delighted to find just the right size of paper bead I needed for my fabric necklaces. They are of a consistent quality and goods are despatched in a friendly, efficient way. Great people to deal with!" – Jessica Lindon, Owner of Jessica Crafts.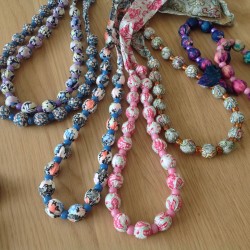 If this has inspired you to create your own jewellery or you have come up with your own idea about what you can do with our Paper Balls then you can find your own on our eBay store (link below) as well as other craft materials you can use in conjunction with your project. http://www.ebay.co.uk/itm/Spun-Paper-Balls-Available-in-a-Selection-of-Sizes-and-Quantities-/131476385001?ssPageName=STRK:MESE:IT
If you have any interesting uses for your Paper Balls or anything else for that matter then we would love to hear about them! Please email us at info@hewittandbooth.com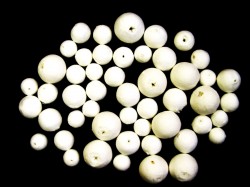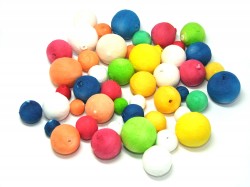 Jessica runs craft workshops on board cruise ships entertaining passengers and at the same time creating individual handmade items. New website coming soon. For enquiries please email jessievaltos@icloud.com
The University of the Third Age (U3A) movement is a unique and exciting organisation which provides, through its U3As, life-enhancing and life-changing opportunities. Retired and semi-retired people come together and learn together, not for qualifications but for its own reward: the sheer joy of discovery! Members share their skills and life experiences: the learners teach and the teachers learn, and there is no distinction between them. The U3A movement is supported by its national organisation, the Third Age Trust. www.u3a.org.uk