Hewitt & Booth Win the Eaton Smith Solicitors Business of the Month Award!
July 29, 2014
We are very pleased to announce that we have won the Eaton Smith business of the month award for June!
Eaton Smith are a solicitors based in Huddersfield and since they were established in 1995, they have run a monthly and an annual business award. Local businesses from Calderdale, Kirklees and Wakefield can enter the awards, to be in with a chance of being selected as business of the month or year. A small panel of judges which comprises of Eaton Smith employees, in collaboration with the Mid-Yorkshire Chamber of Commerce and UKTI (UK Trade and Investment) come together once a month to select a winner.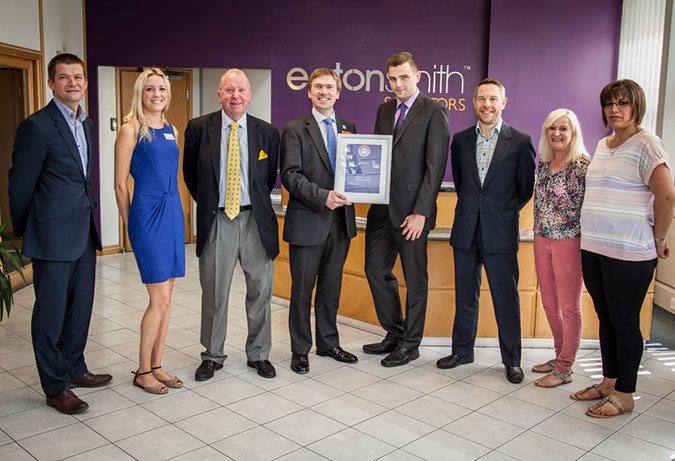 Pictured Above: Chris Taylor (centre), of Eaton Smith, presents the award to Joshua Barr, of Hewitt & Booth with (from left) Martin Bown, of My Management Accountant; Ellie MacDonald and Steven Pollitt, of the Mid Yorkshire Chamber of Commerce; and Ian Brierley, Cath Mellor and Rabia Medlock, of Hewitt & Booth
This month, we entered an application as we felt that due to our recent re-branding, structure and growth, we could be in with a chance of winning the award. The application process and criteria comprises of many different segments including details of the business, annual growth trends as well as social, economic and environmental policies and any other activities that may help work towards benefiting the local and wider community. We were delighted when we were informed that we had won, especially as it means we will automatically be entered into the Business of the Year Awards…exciting!
Of course without loyal customers, suppliers and staff, obtaining an award like this would simply not be possible, so we would like to thank everyone who has made a contribution to our business, even if it has been simply buying a bag of pipe cleaners! We would also like to say a big thank-you to Eaton Smith, the Mid-Yorkshire Chamber of Commerce and UKTI for selecting us as the winner of the June award.
For more information, please visit: www.eatonsmith.co.uk or www.examiner.co.uk/news/business/hewitt–booth-cleans-up-7518713