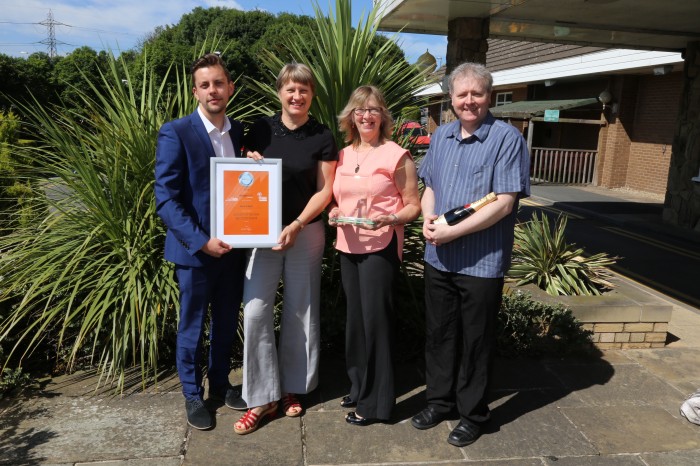 Hewitt & Booth runners up at the Eaton Smith Business of the Year Awards!
July 10, 2015
Last Friday Viv, Christian, Janet and Andrew went to represent Hewitt and Booth at the 20th Eaton Smith Business of the Year Awards held at Cedar Court Hotel, Huddersfield. As winners of the monthly award in June, we qualified for the shortlist for Business of the Year along with the other 11 winners from throughout the year. Having arrived with no real expectation of winning, we enjoyed Bucks Fizz on arrival followed by a Full-English Breakfast before the awards ceremony.
Sufficiently fed and watered we awaited the announcements, preceded by a welcoming speech by Andrew Sugden, Senior Partner of Eaton Smith, who then announced the results. In third place was J G Harrison & Sons Electrical retailers and wholesalers operating from Dewsbury, Halifax, Bradford and Rochdale. Then followed Hewitt & Booth in a highly respectable second place, pipped at the post by Millennium Care Services of Featherstone, who provide support for adults with various disabilities through care homes, supported living, active living and domiciliary care.
All at Hewitt & Booth are immensely proud of our achievement and it is testament to staff and all involved with the company that we should achieve this award. One particularly poignant sentiment shared on the day was that of Lloyd Simpson, MD of LSi Ltd, last year's winners that advised us all to "use these awards to grow confidence in your business – and make sure your employees are recognised because without them, you may not be where you are today." This was echoed by Viv Jebson, Managing Director of Hewitt & Booth in her acceptance speech where she spoke of the dedication of staff, mentioning Janet Quanne, Warehouse Manager,, as she had gone out and purchased 500 wooden spoons one weekend in order to replenish warehouse stocks.
Eaton Smith is an award winning multi-disciplinary law firm. Our large teams of solicitors and other legal advisors have a wide range of expertise and specialist knowledge, ensuring that we can provide the best support for our clients in all areas of their business and private lives. www.eatonsmith.co.uk

Established in 1995, the Eaton Smith Awards cover a wide geographical area including Kirklees, Calderdale and Wakefield. www.businessoftheyearawards.co.uk

Millennium Care provides a pathway of services across the Yorkshire region for adults and children with learning disabilities. Some of whom may have additional complex needs and or challenging behaviours. www.mcare.info